Originally Published Dec. 15, 2016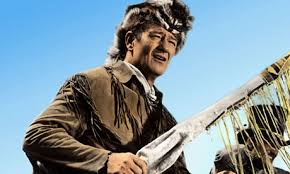 Was he sensitive, was he hell? Did he ride to the rescue…..more times than you've had hot dinners. And boy could he walk, talk & shoot straight. If he starred in a modern political feature his usual "can-do"character may have got into the following minor scraps and righting of wrongs.
Fiscal Reform:
Simplifying and reducing tax rates, encouraging: investment at home, employment and, rewards for success in business and career.
Fiscal Easing:
Reminiscent of Reaganomics unmet spending, but this time from Debt levels not seen since the end of WWII. With demand from global pension plans to meet cash requirements of the expanding number of retirees, allowing easy adoption of increased issuance, until expanding US growth rates permits increased tax recovery and Debt pay-down.
Infrastructure & Urban Regeneration:
Not talking bridges to nowhere as in the Japanese example, for fertility rates in the US are still reasonable and the legal immigration policy liberal. But improving productivity and bringing previously criminal elements into legal activities boosting growth and tax collection.
Reduced Regulation:
Relaxation of the burden on small business to enter markets and complete against global market leaders, bringing back the local feel. And a return of Caveat Emptor improving the self-reliance and diminishing the hollering in recent generations.
Realigned Foreign Policy:
Requiring Allied nations to meet defence spending requirements that may reduce the need for US foreign bases that have prevented any recent major European wars. Not undermining solid allies with a shared cultural outlook, together with a healthy scepticism of vocal cultural opponents, thereby providing certainty of deterrent. Even the Duke would never call US citizens of Mexican heritage, rapist, murderers and drug dealers and would have found it inconceivable to want to eliminate the Chicano vote. Unless the comments were referring to ILLEGAL immigrants whilst still assuming some of them are good people. Profiling of LEGAL entrants who's cultures are sympathetic to extremist/criminal activities.
Renegotiated Trade Agreements:
Whilst most country trading surpluses are caused by large savings and productivity gains they are also usually accompanied by a certain amount of xenophobia. Restriction of free trade can be inflationary but may also bring in the huge amount of people not counted as looking for work and an incentive to invest in robotics.
And the fantastic cinematography that usually accompanies Duke's features? This is being provided by the beautiful and breathtaking capital markets reaction of higher expected growth and a decent yield on fixed income savings of the more conservative.
But what of the plot, of course that would depend on the director of the feature?
Directed by Michael Moore we'll just get a remake of the Alamo, when the Central Bank returns to its misguided ways of belated and exaggerated action to stifle this hero's efforts.
But with Quentin Tarantino we'll get his reboot of the Searchers with the search, discovery but this time, successful reuniting of America with it's Greatness.